National Sleep Awareness Week 2019 – March 10 - 16
Community news
|
Friday, March 8, 2019
Cuero, Texas: Do you get enough sleep? Do you know how much sleep you need? These questions and more are part of a week-long campaign for National Sleep Awareness Week, March 10 – 16, 2019. The goal of this week is to provide valuable information about the benefits of optimal sleep and how sleep affects health, well-being, and safety.
Sleep is a vital indicator of overall health and well-being. We spend up to one-third of our lives asleep. Like good diet and exercise, sleep is a critical component to overall health. Cuero Regional Hospital and their Sleep Study program are proud to take part in this educational week and will be posting educational articles, infographics and more across social media channels to help raise awareness and will include #YourDayBeginsWithSleep
Here are some excellent tools to help you determine best time to go to sleep, how much sleep you need and more!
National Sleep Foundation's Bedtime Calculator, which encourages individuals to plan their sleep. https://www.sleepfoundation.org/articles/bedtime-calculatortm
The National Sleep Foundation has released the results of its recent Sleep in America ®poll, fielded alongside the organization's quarterly Sleep Health Index ®: https://www.sleepfoundation.org/professionals/sleep-america-polls
How much sleep do we really need? Sleep needs vary across ages and are especially impacted by lifestyle and health. To determine how much sleep you need, it's important to assess not only where you fall on the "sleep needs spectrum," but also to examine what lifestyle factors are affecting the quality and quantity of your sleep such as work schedules and stress. Visit NSF's site for more information: https://www.sleepfoundation.org/
"We know that getting a good night's sleep is important, but few of us actually make sleep a priority! For many of us, we've forgotten what "being really, truly rested" feels like," said Brenda Martin, RRT at Cuero Regional Hospital. If you or a family member are experiencing symptoms such as sleepiness during the day, snoring, leg cramps or tingling, gasping or difficulty breathing during sleep, prolonged insomnia or another symptom that is preventing you from quality sleep, Martin advises to consult your primary care physician to determine the underlying cause and discuss a sleep study.
"We have so many stimulants that also impact our sleep and quality of sleep like coffee and energy drinks, alarm clocks, and external lights—including those from electronic devices—that interfere natural sleep/wake cycle," said Martin.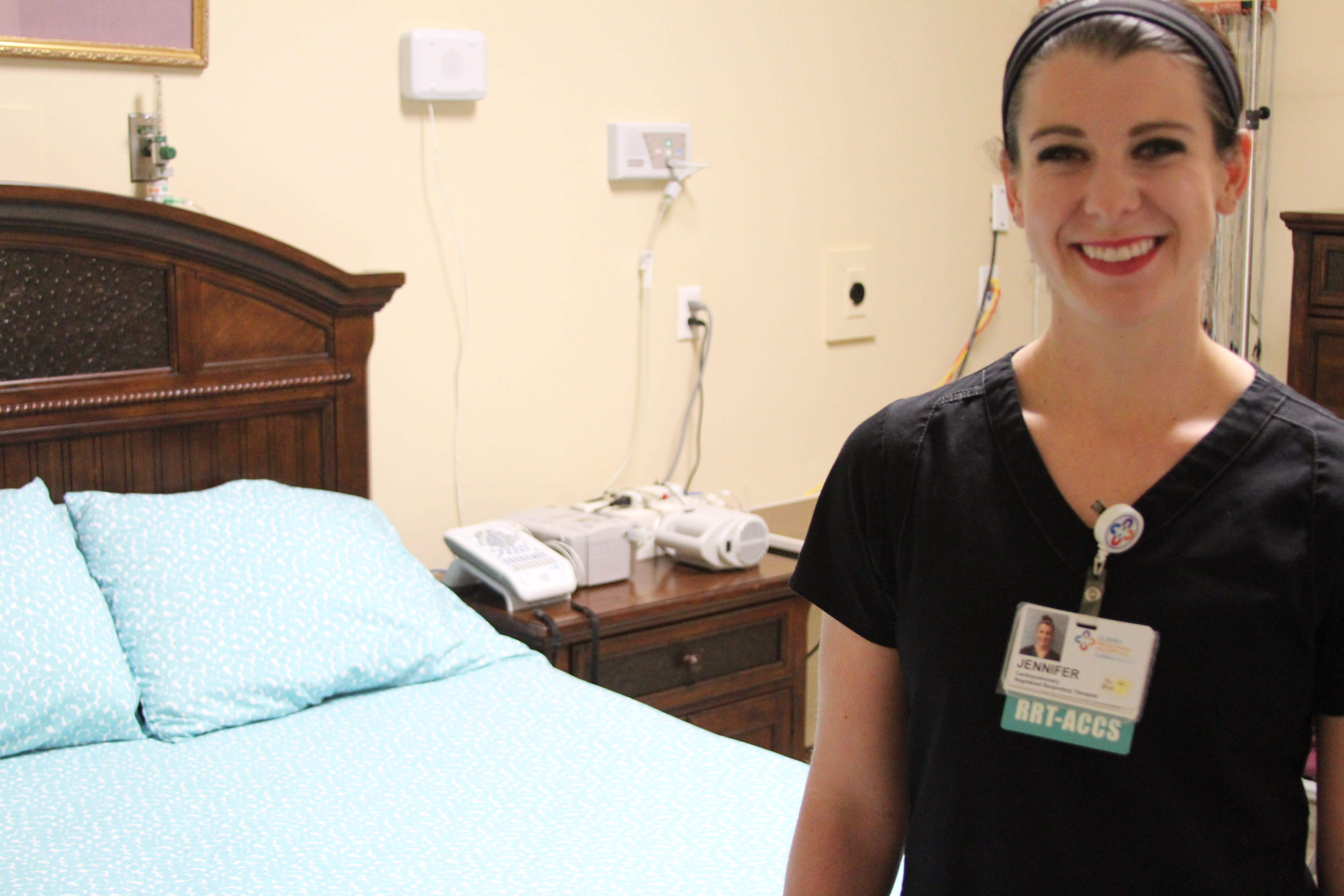 Pictured left is the room where sleep studies are conducted at the Sleep Center at Cuero Regional Hospital.
Sleep Time Recommendations:
"The NSF has committed to regularly reviewing and providing scientifically rigorous recommendations," says Max Hirshkowitz, PhD, Chair of the National Sleep Foundation Scientific Advisory Council. "The public can be confident that these recommendations represent the best guidance for sleep duration and health."
The panel revised the recommended sleep ranges for all six children and teen age groups. A summary of the new recommendations includes:
Newborns (0-3 months ): Sleep range narrowed to 14-17 hours each day (previously it was 12-18)
Infants (4-11 months): Sleep range widened two hours to 12-15 hours (previously it was 14-15)
Toddlers (1-2 years): Sleep range widened by one hour to 11-14 hours (previously it was 12-14)
Preschoolers (3-5): Sleep range widened by one hour to 10-13 hours (previously it was 11-13)
School age children (6-13): Sleep range widened by one hour to 9-11 hours (previously it was 10-11)
Teenagers (14-17): Sleep range widened by one hour to 8-10 hours (previously it was 8.5-9.5)
Younger adults (18-25): Sleep range is 7-9 hours (new age category)
Adults (26-64): Sleep range did not change and remains 7-9 hours
Older adults (65+): Sleep range is 7-8 hours (new age category)
For better sleep, follow these simple healthy sleep tips, including:
Per the National Sleep Foundation, you may also try using the National Sleep Foundation Sleep Diary to track your sleep habits over a one- or two-week period and bring the results to your physician. Find it here: https://www.sleepfoundation.org/sites/default/files/inline-files/SleepDiaryv6.pdf
Learn more about sleep studies available at Cuero Regional Hospital by visiting www.CueroRegionalHospital.org Cuero Regional Hospital is located at 2550 N. Esplanade in Cuero, Texas and offers an ED- Level IV Trauma Center, on-staff General Surgeon, and a TeleStroke program. For more information, please visit www.cuerohospital.org or call (361) 275-6191 ext 2254